Ireland's Best Young Entrepreneur from Dun Laoghaire – Rathdown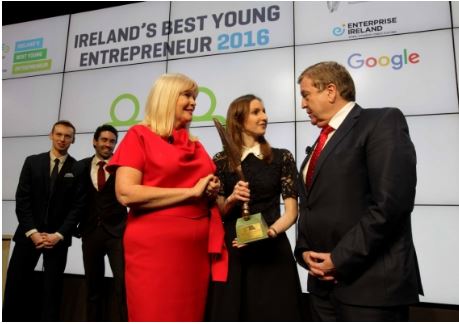 The winners of Ireland's Best Young Entrepreneur (IBYE) competition 2017 were announced on Sunday 5th March at the Google European Head Quarters in Dublin.
A 26-year-old physiotherapist from Dún Laoghaire-Rathdown who developed an app that is transforming the lives of thousands of people with Parkinson's disease all over the world has been named as Ireland's Best Young Entrepreneur (IBYE).
Ciara Clancy of Beats Medical wins a €45,000 investment fund through the Local Enterprise Offices after winning the title at the IBYE national final.
Ciara, who is passionate about improving healthcare through technology for people with neurological conditions, is providing individually tailored physiotherapy, speech and language and occupational therapy exercises through mobile phones in 40 countries.
Her aim is to continue supporting more and more people with Parkinson's around the world, as an estimated 10 million people currently live with the disease. She is also developing digital treatments for other neurological conditions such as MS, Stroke, Dyspraxia and Cerebral Palsy.
Other winners on the day included Alvan Hunt (age 26) of Hexafly in Meath who won the 'Best Business Idea' category while the winner of the 'Best Start Up Business' category is Samuel Dennigan (age 31), of Strong Roots in Dublin City.
Hexafly uses cutting-edge biotechnology to find smart ways to feed the planet using the by-products of insects, while Strong Roots is providing new healthy alternatives in the frozen food sector.
The 'Best Promotion of Business On-Line' Google award went to Richard Barrett (age 27) of Pundit Arena in South Cork. The three category runners-up were Damien Mason (age 35) of Flexibod in Clare in the 'Best Business Idea' category, Roisin Hogan (age 35) of HIRO by Roisin in Louth in the 'Best Start-Up Business' category and Heinrich Anhold (age 35) of StableLab in Sligo in the 'Best Established Business' category.
The judging panel was chaired by Paddy Flynn, Director of Trust and Safety with Google while Broadcaster Claire Byrne acted as MC. The other members of the judging panel were:
• Eugene Forde (Department of Jobs, Enterprise and Innovation)
• Orla Martin (Head of Enterprise, LEO Offaly)
• Niall O' Donnellan (Enterprise Ireland)
• Brian Crowley  (CEO TTM Healthcare)
• Sarah Doyle (CEO Kinesense)
Already through the competition, 180 entrants have won investments of between €3,000 and €15,000 each from their local LEO. Sunday's winners and runners-up will share €100,000 in investment funding.
The IBYE national final takes place on the opening day of Local Enterprise Week, which runs nationwide through Local Enterprise Offices until March 10th.
Speaking on Sunday, Minister for Jobs, Enterprise and Innovation, Mary Mitchell O'Connor said, "I want to congratulate and say a hearty 'well done' to Ciara Clancy of Beats Medical in Dún Laoghaire-Rathdown on winning this year's IBYE title. It is a superb achievement. That said, all of our finalists here today are winners, having taken their ideas and concepts through a tough
and rigorous process to make them market ready. Seeing their projects come to fruition is enormously gratifying and is testament to the huge effort they have invested."
Written by Robert McHugh, on 7th Mar 2017. Source: www.businessworld.ie