Lord Mayor, Councillor Tony Fitzgerald officially launches the IPB Pride of Place Awards 2018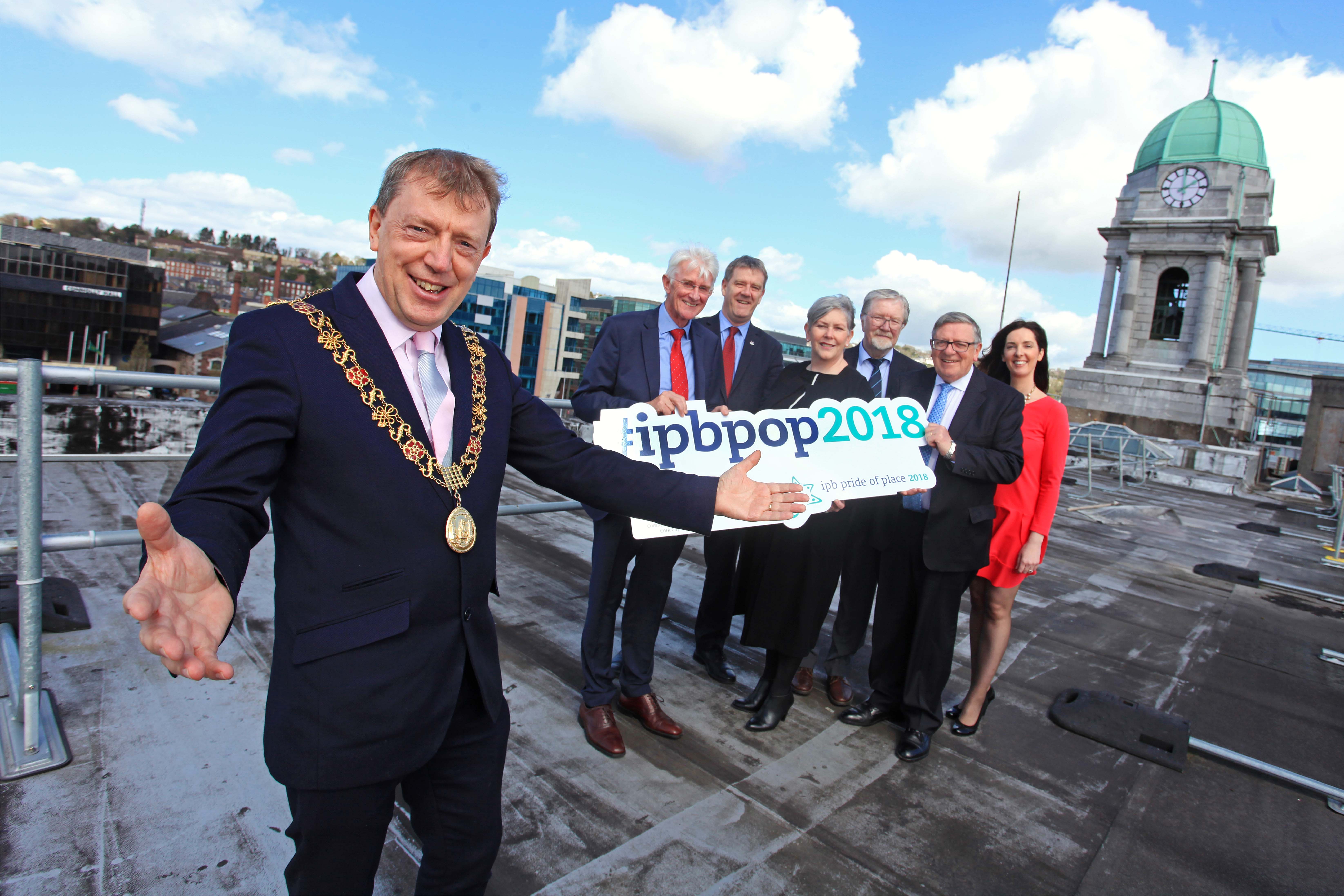 IPB Pride of Place is an annual competition organised by Co-operation Ireland and sponsored by IPB Insurance. It promotes and celebrates the best in community development and recognises the selfless efforts of people in making their local neighbourhoods better places to live, work and socialise.
It is an All-Island competition whereby local authorities from across the island of Ireland nominate groups in their communities who they feel have made a significant contribution to improving their neighbourhood, working collectively. The competition culminates with a Gala Awards Ceremony.
Cork City Council have been selected to host the 16th Annual All-Ireland Pride of Place Gala Awards Ceremony which will take place in Cork City Hall on Saturday 17 November 2018. It is a tremendous honour for the city to be asked to host this event and a great opportunity for them to showcase Cork from a community, cultural and tourism perspective. Cork has strong tradition of community development of volunteerism and community action, so no better place to hold the awards ceremony. Lord Mayor of Cork, Councillor Tony Fitzgerald officially launched the Pride of Place Awards 2018 on Friday April 20 at in City Hall.
Speaking at the launch, the Lord Mayor said "this city has a history of collaboration, community development and volunteerism, and hosting the Pride of Place Gala Awards gives us an opportunity to showcase that community spirit. Pride of Place has become one of the most prestigious awards on the island of Ireland, recognizing community endeavor most of which is done in a voluntary capacity with no expectation of reward. The Gala Awards which will be held on Saturday 17 November will be a very special evening when people come to Cork to celebrate and acknowledge those efforts."
"We're looking forward to welcoming people from towns, cities and villages in every county across Ireland who have been nominated by their local councils – and hope that they'll enjoy a great stay in the rebel city. Voted one of the top ten cities in the world to visit by the Lovely Planet Guide our historic, creative, exciting and ever-changing city has lots for people to explore; take a stroll round the English market, visit the Cork Public Museum, the Crawford Gallery or Cork City Gaol and take a walking tour on a journey through the city's most important streets and buildings like Shandon Steeple"
Peter Sheridan Chief Executive Officer, Co-operation Ireland added: "For Co-operation Ireland, the Pride of Place competition embodies the ethos of the organisation and it shows how working together ordinary people can make a real positive change to society. I congratulate everyone who participated in this year's competition, but especially the winners and I look forward to seeing them at this year's award ceremony."
Chairman of IPB Insurance George Jones said: "IPB Insurance is proud to be associated as title sponsors of the IPB Pride of Place Awards and more importantly what they represent. I firmly believe that it is essential that we recognise communities and the thousands of volunteers across the island of Ireland that give of themselves selflessly every day. As a mutual insurer that insures local authorities and their communities across the island of Ireland, these awards are an excellent fit. It is clear that working together and getting things done increases people's pride in where they live and in turn helps build vibrant communities. I would like to congratulate Cork City Council on their appointment as official hosts for IPB Pride of Place 2018 and wish everyone involved the very best in their preparations."
For more information on the 2018 IPB Pride of Place Awards "http://www.prideofplace.ie" and for details about the Gala Awards event visit "http://www.corkcity.ie/prideofplace"
Featured in the photograph from left to right:
Cllr Tony Fitzgerald, Lord Mayor of Cork
Tom Dowling, Chairperson of Pride of Place
Paul Moynihan, Director of Services, Cork City Council
Anne Doherty, Chief Executive, Cork City Council
Maurice Inglis, Pride of Place, Co-operation Ireland
George Jones, Chairman, IPB Insurance
Paula Madigan, Pride of Place, Co-operation Ireland