IPB Pride of Place Awards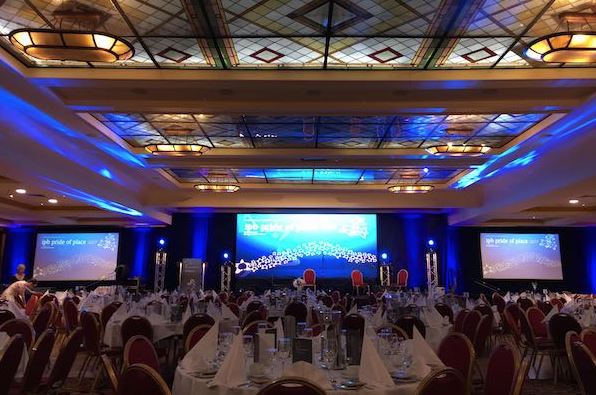 The winners of the 15th annual IPB Pride of Place Awards in association with Co-operation Ireland were announced on Saturday 2nd December at a Gala Awards Ceremony in Donegal.
The awards are the pinnacle of the annual competition, which recognises the work community organisations do for their local society. Each year councils and local authorities from across the island of Ireland nominate groups in their area, who they believe have made an outstanding contribution to supporting and strengthening their local community.
During the ceremony 49 awards were announced in the main competition, the cities competition and special awards, ranging from groups supporting small rural communities to those involved in large inner city housing estates. Donegal County Council hosted the evening and celebrated Irish musicians Donal Lunney and Paddy Glackin entertained the audience before the winners were announced. RTE presenter Aengus MacGrianna was MC for the ceremony, which was attended by over 800 people.
Sponsored by IPB Insurance, the Pride of Place competition was initiated 15 years ago through a Co-operation Ireland programme to acknowledge the invaluable work undertaken by communities and groups across the island of Ireland. It has grown into the largest competition recognising community development achievements.
The winners were presented with their awards by Joe McHugh TD, Government Chief Whip & Minister of State for Gaeilge, An Ghaeltacht and the Islands, Cathaoirleach of Donegal County Council, Cllr Gerry McMonagle, Dr Christopher Moran, Chairman Co-operation Ireland,  Michael McGreal, Vice Chair IPB Insurance and Tom Dowling, Chairperson, Pride of Place.
Tom Dowling, Chairperson of IPB Pride of Place Competition said
"This unique competition is about showing respect and inclusion for every sector in our communities, young, old, rich or poor and creating communities to which the people are proud to say they belong". He added that he was delighted that this year's gala ceremony was being held in Donegal"
Peter Sheridan, Chief Executive of Co-operation Ireland said
"The Pride of Place Awards ceremony is an ideal opportunity for communities to come together and learn from each other. This will be important as we prepare for the inevitable changes Brexit will bring to the island of Ireland. This evening, we have witnessed some of the finest examples of people working together to create a positive future and we all must continue to build on this so that Irish society as a whole can benefit. I congratulate all the nominees who took part in the competition this year"
Michael Garvey, Chief Executive Officer of title sponsor IPB Insurance, reaffirmed his company's support for the competition, he said:
"The IPB Pride of Place awards is an ideal platform to recognise the positive social impacts being made in communities across the island of Ireland. I would like to take this opportunity to commend all the communities involved for their spirit of collaboration and camaraderie in making it to the finals. It is also important to recognise the role of local authorities, North and South, who work closely with their communities to support inspiring voluntary initiatives. These awards serve as one of the important ways that we can recognise those involved in working to make a difference in society".
Cathaoirleach Cllr. Gerry McMonagle said "I am delighted that Donegal has been chosen to host this prestigious awards ceremony and that we welcomed over 800 people to celebrate and recognise the wonderful contribution that community groups make to life in their own local areas all across the island of Ireland.  This has been a great opportunity to showcase what Donegal has to offer and I hope all our visitors have had a wonderful experience and that they bring home with them fond memories of their trip to Donegal".