Winners Announced for the All Ireland Community & Council Awards 2021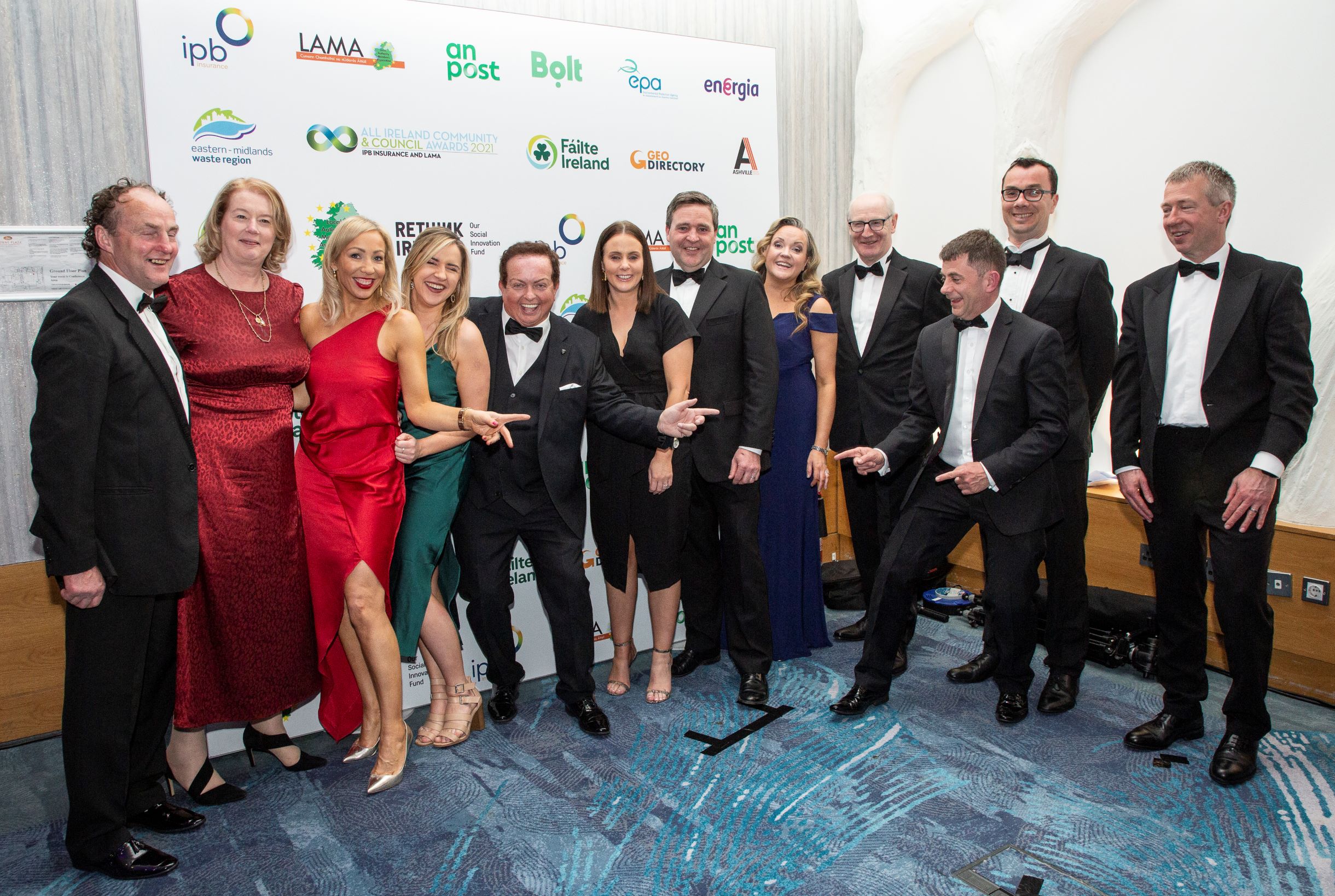 Presented by IPB Insurance and LAMA
The All-Ireland winners for the Community & Council Awards 2021 presented by IPB Insurance and LAMA have been announced; the finalists represented their counties in the Crowne Plaza, Dublin Airport on Saturday 9th April 2022. For fifteen years these awards have grown in popularity nationwide, celebrating communities and councils working together.
It was an extraordinary year for entries with over 160 nominations received! Following an in-depth judging process over 100 projects nationwide from 30 counties were shortlisted across 24 categories.
Highlights of the evening included the coveted Grand Prix Award, sponsored by IPB Insurance, being awarded to Relationships Matter: building ACE awareness in the community, who also took home the award for Best Community Health Initiative, sponsored by Healthy Ireland. Council of the Year, sponsored by IPB Insurance, went to Wicklow County Council while Clare County Council was recognised with the National Impact Award for the Clare Covid Hero's Award & Card Writing Initiative.
Cork County Council's Library Housebound Service was crowned the Best Community Based Initiative while Kerry County Council was awarded Best Energy Smart Initiative, sponsored by Energia for Dynamic Purchasing System for Energy Efficiency Retrofitting Works. Dublin County Council took home the Best Social Enterprise of the Year Award for Specialisterne Ireland.
Now in their 15th year, the 2021 All Ireland Community & Council Awards presented by IPB Insurance and LAMA celebrate community and councils working together. They provide a great opportunity to highlight the work done within our communities, to reward our unsung heroes and recognise the phenomenal contribution they've made to our lives as well as acknowledge achievements from local Community and County Councils, partnerships and projects that enhance our everyday lives.
IPB Insurance has continuously grown its involvement in the awards, this year being their sixth year as headline sponsor. George Jones, Chairman of IPB Insurance, said:
"IPB Insurance is proud to be headline sponsor of the Community and Council Awards in partnership with Local Authority Members Association (LAMA). As the mutual insurer to Ireland's local authorities, we are delighted to support these Awards which celebrate the unique and symbiotic relationship enjoyed by Local  Authorities  and  their  communities.  These  awards  also  serve  to  illustrate what can be achieved when community volunteerism is encouraged and supported at a local level."
Cllr Micheal Anglim, Chairperson of LAMA commented;
"The 31 local authorities throughout the country have been always very supportive of the Awards and of LAMA and that is always very much appreciated. There are people here from different counties throughout the country. Many of you are volunteers working tirelessly in your local areas for no reason other than the love you have for your parish, village or town. You are the people who give the best example of what it is to be Irish."
Full list of winners at the All-Ireland Community & Council Awards 2021 presented by IPB Insurance and LAMA
Best Arts/Culture Initiative
Winner: 'Mayo Day 21 – Ár bPobal, Our People' (Mayo County Council)
Silver Award: Wicklow Passport (Wicklow County Council)
Bronze Award: New Ross Summer Sessions 2021 (Wexford County Council)
Best Business Working with the Community (Sponsored by An Post)
Winner: Housebound Service (Louth County Council)
Silver Award: Fingal County Council Public Wi-Fi Roadmap (Fingal County Council)
Bronze Award: The Urban Co-op & Wellness Hub (Limerick County Council)
Best Community Based Initiative (Sponsored by Bolt)
Winner: Cork County Council Community Call Library Housebound Service (Cork County Council)
Silver Award: Project Cineál (Donegal County Council)
Bronze Award: Cavan Library Covid-19 Book Delivery Service (Cavan County Council)
Best Community Health Initiative (sponsored by HI)
Winner: Relationships matter: building ACE awareness in the community (Cork City Council)
Silver Award: San Remo Project (Wicklow County Council)
Bronze Award: Mosney Village initiatives (Meath County Council)
Best Community Sports Team/Club
Winner: St.Paul's Boxing Club (Waterford County Council)
Silver Award: Enjoy Tennis at Shankill Tennis club (Dun Laoghaire/Rathdown County Council)
Bronze Award: The Peace Link (Monaghan County Council)
Best Connected Council
Winner: Limerick 50 Days (Limerick County Council)
Silver Award: Cavan Day 2020 (Cavan County Council)
Bronze Award: Waterways Ireland Virtual Open Day (Clare County Council)
Best CSR Community Programme
Winner: Ray of Sunshine Ltd (Wicklow County Council)
Silver Award: Amber Thursday – National Fire, Road and Water Safety initiative (Kildare County Council)
Bronze Award: Weather Station For Schools-Climate Change (Fingal County Council)
Best Disability Access & Inclusion Initiative
Winner: Spraoi agus Sport Alternative Respite Programme (Donegal County Council)
Silver Award: Super Connectors (Louth County Council)
Bronze Award: Age Friendly Clare Digital Nursing Home Initiative (Clare County Council)
Best Education/Training Initiative
Winner: Writing Home (Kilkenny County Council)
Silver Award: Virtual Reality Canal Experience (Westmeath County Council)
Bronze Award: Kildare Cycle Cafés (Kildare County Council)
Best Energy Smart Initiative (Sponsored by Energia)
Winner: Dynamic Purchasing System for Energy Efficiency Retrofitting Works (Kerry County Council)
Silver Award: Imagine – High Speed Broadband (Tipperary County Council)
Bronze Award: Smart Street Lighting (Tipperary County Council)
Best Environmental or Ecological Project or Initiative (Sponsored by EPA)
Winner Award: Sustainable Development Goals Mapping Tool (Wicklow County Council)
Silver Award: Love your Beach Week 2021 (Galway City Council)
Bronze Award: Green Dublin Docklands Initiative (Dublin City Council)
Best Heritage Project
Winner: Swords Castle Conservation Project – Preserving a National Monument and Heritage Facility for present and future citizens to enjoy (Fingal County Council)
Silver Award: The Carrickmacross Workhouse – Interpretation & Education Project (Monaghan County Council)
Bronze County Council: Fort Eliza Restoration Project (Offaly County Council)
Best Local Authority Innovation for Attracting Inward Investment
Winner: Love Donegal Day 2021 (Donegal County Council)
Silver Award: Arklow Courthouse & Enterprise Hub (Wicklow County Council)
Bronze Award: Bloom HQ (Laois County Council)
Best Micro Business
Winner: Clever Little Handies baby sign classes (Kildare County Council)
Best Public Park
Winner: Min Ryan Park & Playground (Wexford County Council)
Silver Award: Waterstown Park – A Hidden Gem (South Dublin County Council)
Bronze Award: Somers Park (Roscommon County Council)
Best Social Housing Initiative (Sponsored by Geo Directory)
Winner: The Carraig Eden Project (Wicklow County Council)
Silver Award: Bun Daire Green Kinnegad, County Westmeath (Westmeath County Council)
Bronze Award: 9 Houses Railway Avenue, Borris (Carlow County Council)
Best Tourism Initiative (Sponsored by Fáilte Ireland)
Winner: Royal Canal Greenway (Longford County Council)
Silver Award: Wicklow Passport (Wicklow County Council)
Bronze Award: Clew Bay Bike Trail (Mayo County Council)
Best Waste Management Programme (Sponsored by Eastern-midlands Waste Region)
Winner: Stop Food Waste (Kerry County Council)
Silver Award: Clare Waste Awareness Week (Clare County Council)
Bronze Award: Clean Up! (Fingal County Council)
Community Volunteer of the Year
Winner: South Dublin Volunteer Centre – COVID-19 Volunteers (South Dublin County Council)
Silver Award: CHEF AID Letterkenny (Donegal County Council)
Bronze Award: Hawre Kane (Cork City Council)
Emergency Response Person/Team of the Year
Winner: Cavan Civil Defence (Cavan County Council)
Silver Award: South Dublin Volunteer Centre – COVID-19 Volunteers (South Dublin County Council)
Bronze Award: Clare Fire Service (Clare County Council)
National Impact Award
Winner: Clare Covid Hero's Award & Card Writing Initiative (Clare County Council)
Council of the Year (Sponsored by IPB Insurance)
Winner: Wicklow County Council
Grand Prix Award (Sponsored by IPB Insurance)
Winner: Ag Eisteacht – Relationships matter: building ACE awareness in the community (Cork City Council)
Best Social Enterprise of the Year (sponsored and nominated by Rethink)
Winner: Specialisterne Ireland (Dublin  County Council)