Changing Lives Through Social Enterprise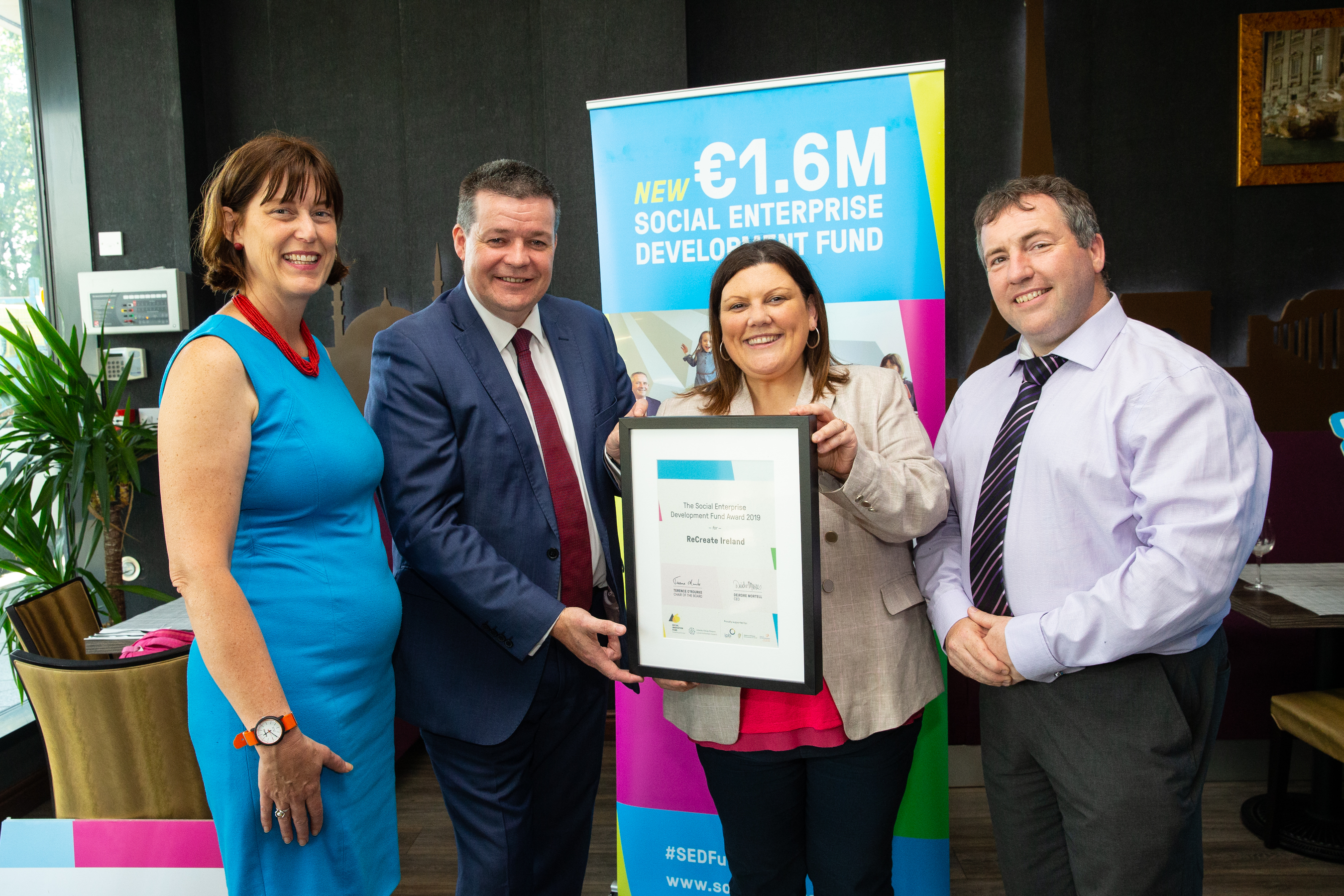 Awardees of 2019 Social Enterprise Development Fund Announced
16 Awardees will receive cash grants of up to €50,000 and a place on Ireland's most prestigious Accelerator Programme
Social Innovation Fund Ireland is proud to announce the 16 awardees of the 2019 Social Enterprise Development Fund. The awardees, who come from right across the country, were announced at 3 regional lunches which took place across the month of July.
The Fund was set up to support social enterprises from across the country to achieve their goals and create measurable social impact that can be scaled all over Ireland. The €1.6 million fund, created by Social Innovation Fund Ireland in partnership with Local Authorities Ireland, is supported by IPB Insurance and the Department of Rural and Community Development from the Dormant Accounts Fund.
Chosen from over 200 applicants from almost every county in Ireland, the 16 successful Social Enterprises come from a mixture of urban, town and rural settings. The Social Enterprises will not only receive cash grants of up to €50,000 but will also land a place on Ireland's most prestigious Accelerator Programme for social enterprises.
The Accelerator Programme is run in partnership with Local Authorities Ireland and provides intensive, expert and bespoke supports for social enterprises to hone their social impact, business skills and accelerate their growth. The 16 awardees are:
The Peace Link (Monaghan)
The Peace Link addresses peace & reconciliation, health and social inclusion in the Clones Erne East area through sport.
Teach Na Daoine (Monaghan)
Teach Na Doine was set up to address and support local disadvantaged individuals and groups locally including members from the Travelling community, people suffering from a disability, immigrants, asylum aeekers and drug and alcohol misusers.
Spraoi agus Spórt (Donegal)
Spraoi agus Spórt addresses the support and recreational needs of families working and living in Carndonagh, Co. Donegal
Irish Seed Savers Association CLG (Clare)
An environmental charity and a social enterprise, they research, gather, grow, and protect these collections on their 20 acre organic farm in Scariff, East County Clare, and make them available for home and community growing as well as market gardeners and farms, to keep these collections alive and create greater accessibility and security of locally grown food.
Gabriel's Orthotic Services (Limerick)
St Gabriel's Orthotics provide orthotics to children with disabilities where the child's needs are the primary focus.
The Urban Co-Op (Limerick)
The Urban Co-Op are improving community wellness by providing wholesome food at affordable prices and are operated by the community for the community.
Active Connections (Cork)
Typically helping young people/young adults 10 years+ both mainstream and neuro-diverse who are experiencing emotional or behavioural difficulties.
Deaf Enterprises addresses the high unemployment rates of the deaf and hard of hearing community.
Bounce Back Recycling (Galway)
Bounce Back Recycling (BBR) addresses the environmental issue of problematic bulky waste going to landfill, In doing so they provide training and gainful employment for members of the Traveller community who otherwise would distant from the workforce
Siel Bleu Ireland (Dublin)
Siel Bleu Ireland addresses the growing epidemic of physical inactivity amongst older adults and people living with chronic disease through physical activity classes.
ReCreate Ireland (Dublin)
ReCreate Ireland addresses the lack of awareness and appreciation of the practical value and benefits of creativity and highlights the impact our actions have on the environment around us.
Refill Ireland Project Ltd (Dublin)
Refill Ireland addresses the environmental impact of single-use plastic water bottles.
Walkinstown Green Social Enterprises Limited (WGSEL) (Dublin)
Walkinstown Green Social Enterprises Limited (WGSEL) supports adults with intellectual disabilities, autism and other barriers to employment, to successfully transition into the world of work, by taking steps into further education, training and paid employment.
We Make Good (WMG) addresses the lack of pathways to employment for people with a history of imprisonment or addiction.
Darndale Belcamp Village Centre (Dublin)
Darndale Belcamp Village Centre (DBVC) addresses the lack of physical facilities for the provision of community services and small-businesses by maintaining and managing buildings and open spaces
Kilcannon Industries CLG (Wexford)
Kilcannon Industries CLG addresses the lack of training and employment opportunities for people with disabilities.
Helen Nolan, Chairperson, Spraoi agus Spórt said: "Spraoi agus Spórt are delighted to have won the Social Enterprise Development Award, we have been on an incredible journey over the last 8 years and we know this funding and support will help to consolidate the work that we have done and assist us in bringing our plans for a FabLab, a Youth Space for Teenagers, a Creative Hub and a Rural Co-Working space to fruition. Maybe we might even see a Spraoi agus Spórt in another town too!"
Deirdre Mortell, Chief Executive Officer, Social Innovation Fund Ireland said: "This year's Social Enterprise Development Fund Awardees are a fantastic example of the type of social enterprises that are making a real difference for communities across Ireland, every day. With the support of the Social Enterprise Development Fund, we feel we can help each of these projects reach more communities in need of their support and we can also help them grow. The SED Fund was created to find and support social enterprises from across Ireland that are giving back and, with today's awardees, we think we've done just that.
George Jones, Chairman of IPB Insurance said: "At IPB Insurance, we're really proud to work with Social Innovation Fund Ireland to support social enterprises that combine social impact and innovative thinking in a way that makes a real difference to their local communities. This year's awardees are already carrying out incredible work and, with the help of this fund, we can't wait to see the great things they go on to achieve."
For more information on the Social Enterprise Development Awardees, please visit: http://www.socialinnovation.ie/social-enterprise-development/