FLYING THE FLAG FOR THEIR COUNTY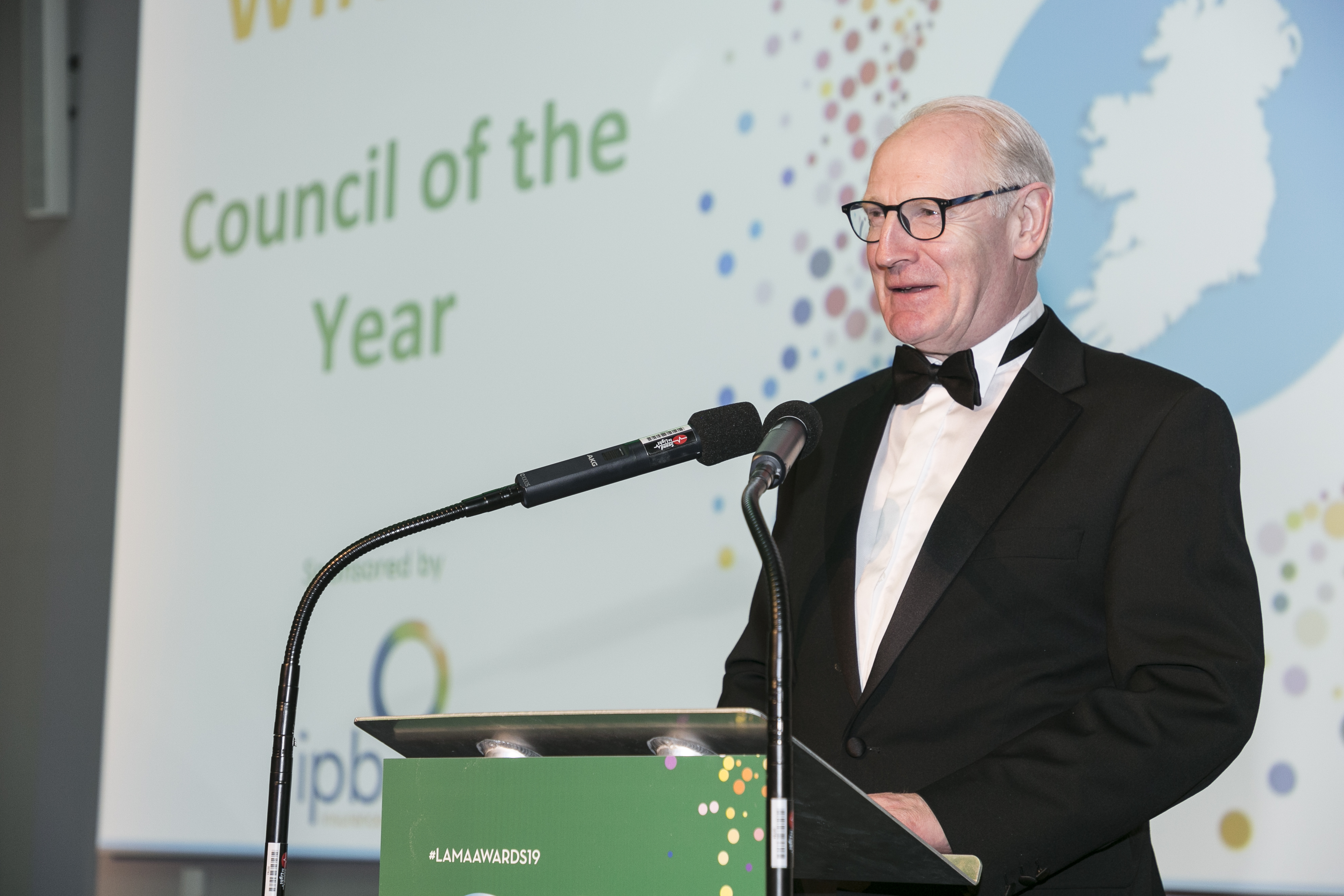 Winners Announced for the All Ireland Community & Council Awards 2019
Presented by IPB Insurance and LAMA
The All-Ireland winners for the 2019 Community & Council Awards presented by IPB Insurance and LAMA (Local Authority Members Association) have been announced; the finalists represented their counties in Croke Park on Saturday 9th February 2019. For thirteen years these awards have grown in popularity nationwide, celebrating communities and councils working together and for the second time the event was held in Croke Park for the All Ireland final and was aptly hosted by RTÉ's national treasure, sports commentator, Marty Morrissey.
It was an extraordinary year for entries with over 150 nominations received! Following an in-depth judging process over 100 projects nationwide from 22 counties were shortlisted across 25 categories.
Highlights of the evening included the coveted Grand Prix Award, sponsored by IPB Insurance, being awarded to Sports Unit, Louth County Council, Sports Inclusion Disability Programme, who also took home the award for Best Disability Access & Inclusion. Council of the Year, sponsored by IPB Insurance, went to Limerick City & County Council while 'Use Your Brain Not Your Fist', an initiative by Leitrim County Council was recognised with the National Impact Award.
South Dublin County Council's MEDEX Programme was crowned Best Community Health Initiative sponsored by Healthy Ireland  while South & West Sligo Tourism were awarded Best Tourism Initiative sponsored by Fáilte Ireland. Ó Cualann Cohousing Alliance, Baile na Laochra Cooperative Affordable Housing took home the award for Best Social Housing Initiative sponsored by GeoDirectory and Best Waste Management Programme sponsored by Repak, a new category this year went to www.repairmystuff.ie (Monaghan).
Now in their 13th year, the 2019 All Ireland Community & Council Awards presented by IPB Insurance and LAMA celebrate community and councils working together. They provide a great opportunity to highlight the work done within our communities, to reward our unsung heroes and recognise the phenomenal contribution they've made to our lives as well as acknowledge achievements from local Community and County Councils, partnerships and projects that enhance our everyday lives.
IPB Insurance has continuously grown its involvement in the awards, this year being their fourth year as headline sponsor. George Jones, Chairman of IPB Insurance, said:
"Despite continued national economic progress, Ireland still faces many social challenges. That is why, now more than ever, it is important that we promote volunteerism and community citizenship in ensuring that we not only build on our economic progress but more importantly that we encourage and support community spirit and social development. These awards serve as a showcase of what can be achieved when communities and councils work together."
Cllr Mags Murray Chairperson of the LAMA Executive commented;
Councillor Mags Murray, Chairperson of LAMA, said: "The Community & Council Awards presented by IPB Insurance and LAMA are a great opportunity to highlight and acknowledge excellent projects and initiatives at local, county and national level. Congratulations to all the finalists and winners."
For more information and the full list of winners visit www.lamaawards.org